iTap Menu (r)evolution™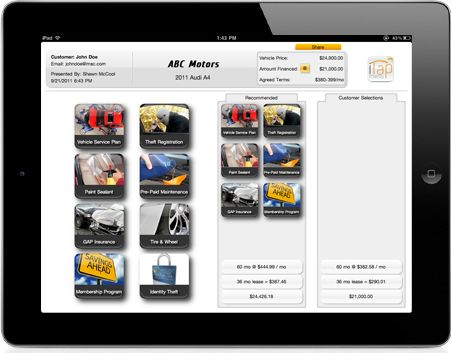 Experience the most interactive way to promote and present your F&I products to your customers utlizing today's state of the art technology. There's no better way to actively involve your customers in the purchase process, allowing them to choose by visualizing the products and decide quickly to help facilitate and streamline the delivery.
No Set Up Fees!
No Long Term Contracts!
Unlimited Users Per Rooftop!
Works on Multiple Browsers!
Real-Time Dashboard Reporting Portal!
Features to Monitor and Track Goals!
All this for only $249 Per Month!
*Optional DMS Integration!

*Optional DMS "Pull" Integration is an addtional $100 Per Month


Click the link below to learn more:

For more information,
please call or email us at:
info@gedsco.com
Join the iTap (r)evolution!